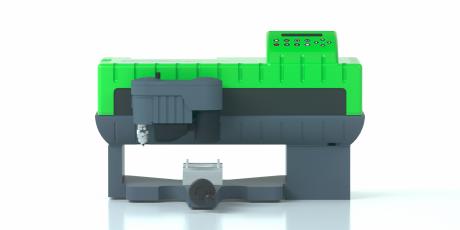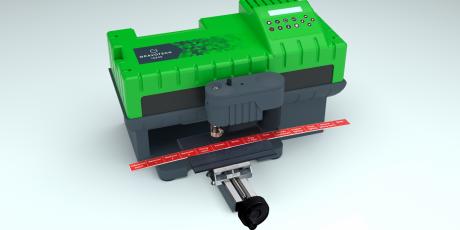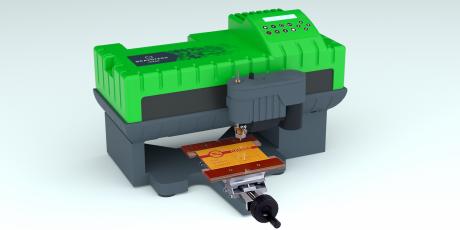 IS200, label engraving machine and small part traceability system
CNC MILLING & ENGRAVING MACHINE
This label engraving machine and part traceability system has been a classic for more than 15 years for small part traceability, small signage and label engraving. The IS200 is compact and easy to carry, perfect for busy workshops and mobile workers.
Small traceability system
The IS200 engraving machine is designed for workshops and businesses. Its 80x225mm unrestricted working area combined with a 0.2mm flatness tolerance makes it an ideal oversized items CNC engraving machine. Easily engrave wood, plastic, and metal with a wide range of spindles available.
 
Compact and quiet label engraving machine
The IS200 label engraving machine is the size of a desk printer. It is fitted with a remarkably quiet DC motorised spindle that will work in your environment. Create on-demand labels, badges, identification signs, instruction plates, and more.
 
Easy to transport rotary engraver
Thanks to its 20kg weight and its compact dimensions, the IS200 rotary engraver is the perfect multi-purpose engraving machine for portability. Take it for on-site demonstrations, fairs, exhibitions, markets, and it will ensure you will be noticed!
Technical Specifications
High engraving precision
Mark characters as small as 0.6mm. Perfect for small label engraving and as a badge engraving machine.

Direct current motorisation.

Z-axis travel
15mm, 48mm at the bottom.

Wide range of rotary and diamond engraving tools
Get the exact result you have in mind out of your sign engraving machine.

Full range of regulating and suction noses
Engrave on irregular shaped items and add a chip collector.

Engraving accessories available with your badge engraving machine
Add a pen attachment or a GravogripTM table to upgrade your CNC engraving machine possibilities.
General
Technologies
Rotary, scribing
Ideal for:
Label engraving
Badge engraving
Small sign engraving
Small part traceability
Marking Capacity
Marking area max
225 mm (8.858 in) x 80 mm (3.150 in)
Spindle power
20 W
Max object height
30 mm (1.181 in)
| | IS200 |
| --- | --- |
| Max. object size (L x W x H) (weight) | Unlimited x 140 mm (5,51 in) x 30 mm (1,18 in) (10 kg - 22 lbs) |
| Dimensions (L x W x H) | 500 mm (19.685 in) x 455 mm (17.913 in) x 295 mm (11.614 in) |
| Machine weight | |
| Noise level | |
| Spindle Type | |
| Operating Temperature | 5 °C (41 °F) - 40 °C (104 °F) |
| Connection to computer | |
| Maximum speed | |
| Z stroke (Z travel) | |
| Rotation speed | |
| Software | |
| Tool diameter | |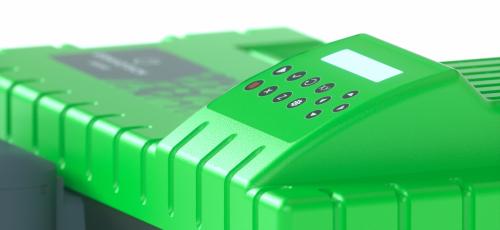 The IS200 label engraving machine is equipped with a high-quality LCD screen to ease the use of the machine.

Take direct control over the process and set-up your engraving parameters, whether you are using it as a sign engraving machine or as a traceability system.

Save your parameters, start and pause the engraving, set-up the Z ref and more.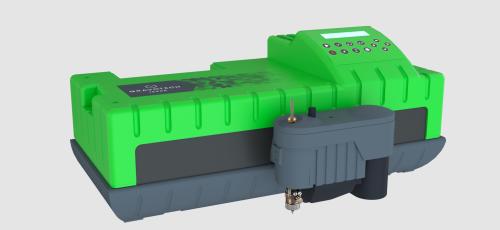 The IS200 traceability system has proven to be reliable across the years.

Whether you need to engrave, mill, or drill, it will get the work done with precision.

Do you have large parts to mark? Remove the base of your rotary engraver and mount the head securely in place to directly engrave on the part.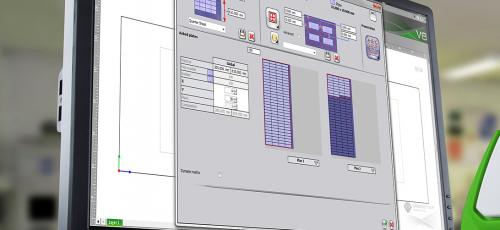 Add the Gravostyle™ engraving software to your sign engraving machine and part traceability system to access unlimited possibilities.

Use the matrix mode for label engraving and save time, get the traceability module to mark scales and graduations and automatically update serial numbers.

Contact us for advice.
ROTARY
DIAMOND DRAGGING
ORGANICS
Glass, crystal
Leather
Wood​​, varnished wood
PLASTICS
ABS​​
Foam​​
Laminates​​
PA
PC
PE, BET
PMMA, Acrylic
POM - PBT
PP
METAL
Aluminum
Anodized Aluminum​​
Brass​​
Coated metal
Copper
Gold, silver, nickel, platinum
Stainless steel​​
Steel
Carbide
Titanium
= Engraving / Deep marking
IS200: Gravograph best versatile engravers
IS200: the preferred machine for express engravers
Gravograph developed the IS200 in 1994 as the Unica's big sister, the first engraving machine with no item size restriction due to its open vice. The Gravograph team kept all the Unica's successful features and added the power of a PC-based software, making it the perfect 21st century engraving machines.
The Gravograph IS200 has been designed as a compact and productive engraving machine for various needs, from small item personalization to medium plate engraving. Its high reliability later inspired the IS400 and IS400 Volume development.
The Gravograph IS200 was chosen at the World Athletics in Paris to engrave all the winners' medals in live on national TV! The IS200 is perfect for on-site demonstrations, fairs, markets, or great events.