XF510m, the electromagnetic dot peen marking machine for direct part marking
DOT PEEN MACHINE
The master of marking Datamatrix codes, this electromagnetic dot peen marking machine builds upon our foundations with dot peen to meet the highest standards of precision.
High-Performance
With automatic density adjustment to maximise marking speed, readability, automatic part detection and multi-level marking the XF510m industrial marking solution performs at its best constantly. Fitted with multi dot technology making it possible to carry out deeper markings, this electromagnetic machine becomes your go-to solution for direct part marking.
Robust & Durable
Utilising high precision zero play ball screws, high rigidity guide rails and integrated cooling, the XF510 direct part marking machine is designed to be robust and running problem-free in the most demanding of environments.
Accuracy
Mark any type of 2D code: Datamatrix, QR code, UID, GS1, Unicode characters safe in the knowledge that our ultra-precise M1L stylus marking device will be providing unparalleled accuracy.
Technical Specifications
Light and compact industrial marking solution making easy integration and no compressed air required.

3 models are available for this integrated solution (L x w x h)
Cm: 158 mm (6.2 in) x 102 mm (4 in) x 275 mm (10.8 in)
Sm: 231 mm (9 in) x 195 mm (7.7 in) x 309 mm (12.1 in)
Dm: 331 mm (13 in) x 195 mm (7.7 in) x 309 mm (12.1 in)

M1L the high precision "one size fits all" stylus

A wide range of accessories from rotary devices, automatic Z-axis, to shutters and bellows available for the more demanding environments.

XCOM controller
with a colour touchscreen and easily accessible connectors (RJ45, USB host, USB Device, RS232, Dedicated I/O, Safety (Performance Level d), User I/O, Z-Axis and Ethernet-based Fieldbuses)

The markings comply with international standards
Data Matrix™ ECC200 5x7 font DT05-89 ATA Spec 2000 UID SAE AS9132 NASA-STD-6002 MIL-STD-130 ISO/TS 16949 AIAG B-17, AIAG B-4 ISO/IEC 16022 AIM-DPM etc.
General
Technology
Dot peen electromagnetic
Main advantages
2D codes
Integrated solution
Direct part marking
Marking Capacity
Marking area max
Cm: 50 mm (1.969 in) x 20 mm (0.787 in)
Sm: 100 mm (3.937 in) x 80 mm (3.150 in)
Dm: 200 mm (7.874 in) x 80 mm (3.150 in)
Material hardness (HRC)
<62
| | XF510 Cm | XF510 Sm | XF510 Dm |
| --- | --- | --- | --- |
| Model | | | |
| Technology | | | |
| Dimensions (L x W x H) | 158 mm (6.220 in) x 102 mm (4.016 in) x 275 mm (10.827 in) | 231 mm (9.094 in) x 195 mm (7.677 in) x 309 mm (12.165 in) | 331 mm (13.031 in) x 195 mm (7.677 in) x 309 mm (12.165 in) |
| Marking area | 50 mm (1.968 in) x 20 mm (0.787 in) | 100 mm (3.937 in) x 80 mm (3.15 in) | 200 mm (7.874 in) x 80 mm (3.15 in) |
| Machine weight | | | |
| Communication Interfaces | RJ45, USB(x2), RS232, 8I/4O, Process IO | RJ45, USB(x2), RS232, 8I/4O, Process IO | RJ45, USB(x2), RS232, 8I/4O, Process IO |
| Fieldbus (option) | | | |
| Embedded fonts type | | | |
| Display | | | |
| Operating Temperature | | | |
| Available languages | | | |
| 2D codes | | | |
| Power consumption rate | | | |
| Input voltage | | | |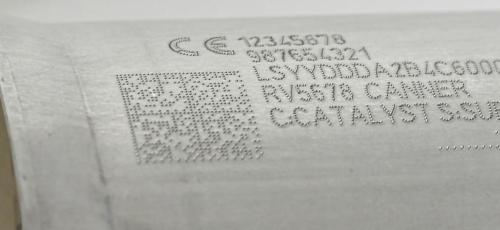 Be it 2DCode, dates, counters, variables, text, serial numbers, shape, logo, batch number, in all languages... Our dot-peen marking machine can mark it on metal and some hard plastics. The electromagnetic dot peen technology makes this easier and more accurate than ever.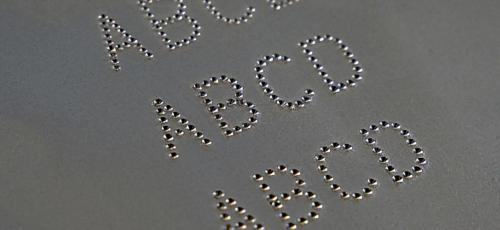 With the ability to accurately mark the same place with up to 10 impacts it is now possible to carry out clearer markings on difficult material with this dot peen marking machine. This meets the depth requirements of most industrial sectors! With just the one marking device stylus the XF510M is a versatile, universal integrated solution.
Datamatrix code marking requires meeting the standards and respecting the real-world traceability workflow. Our electromagnetic machine allows us to obtain a perfect reading of the 2D code in all circumstances: Grade A - Same dot diameter. Equal distance between dots. Can be read back from any direction with 0 % error.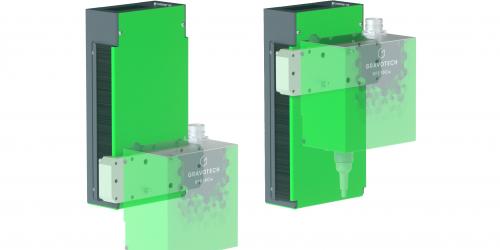 Discover our brand-new equipment!
The eZ150 moves the dot peen marking head along a linear axis.
The eZ150 is an electrical linear axis with a 150 mm stroke especially designed to facilitate the integration of our dot peen marking machines in industrial lines.
Compactness, multiple fixing points, horizontal or vertical mounting position, protection against dust, built-in limit switches: these features simplify your installation.
The eZ150 is directly connected to the XCOM machine controller, allowing a direct and fast programming without the need to set up your PLC system. It is a plug & play accessory: you just need to define the working mode depending on the dot peen marking model.
Combining the eZ150 and the electromagnetic dot peen marking machine allows the use of the "I-Sense function". In this mode, the marker moves until it detects the workpiece's surface, it automatically adjusts the required stylus' height, and then realizes the marking.
Each part is guaranteed to be marked consistently and precisely from the first to the last one. This is a key option to mark precise 2D-codes (Datamatrix & QR codes) directly on your parts and to guarantee that they are readable.
This dot-peen marking machine can mark more than 15 materials
DOT PEEN
PLASTICS
ABS​​
PA
PC
PE, BET
PMMA, Acrylic
POM - PBT
PP
METAL
Aluminum
Anodized Aluminum​​
Brass​​
Carbide
Coated metal
Copper
Gold, silver, nickel, platinum
Stainless steel​​
Steel
Titanium
= Engraving / Deep marking
XF510m: Technifor dot peen machine for 2D marking
The XF510m dot peen machine benefits from 40 years of expertise.
When Technifor invented the dot peen marking technology in 1985, 4 years after the company creation, this dot-by-dot part marking technique immediately appealed to all industries with traceability and identification requirements, as the marking does not affect the mechanical properties of the part.
The CN machine range is Technifor first integrable dot peen machines for production lines. 30 years later, tens of thousands of machines had been sold in more than 100 countries and implemented in international companies.
The XF510m was launched in 2009 to replace and modernize the electromagnetic existing range. Technifor kept the sturdy and reliable mechanics of the old machines and added new features such as an extremely versatile marking stylus and a communicative control unit.
Technifor's electromagnetic technology works without compressed air and guarantees identical dot diameters and distances: any 2D code can be read perfectly by an automatic reader.
Today the XM510m dot peen machine is used worldwide for all kinds of precise marking needs, especially in aeronautics.