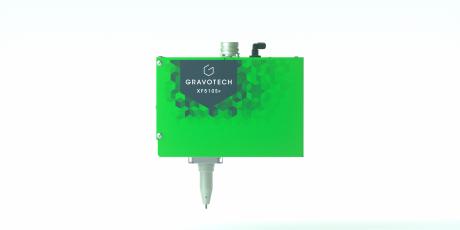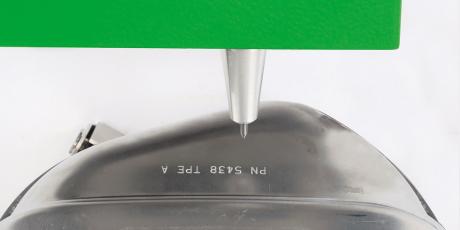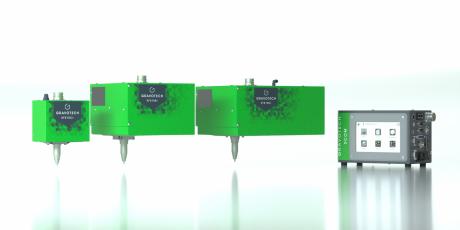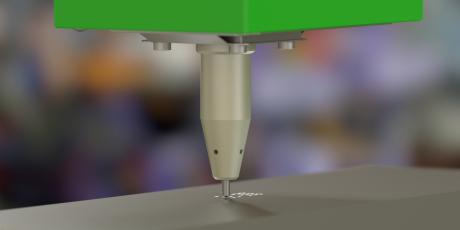 XF510p, the fastest pneumatic marker on the market
DOT PEEN MACHINE
Since inventing dot peen technology 40 years ago we have continued to innovate and the XF510P pneumatic marker takes the crown for being the smallest and fastest on the market while meeting our high standards of precision.
Compact integrated solution
With 3 sizes available our compact size pneumatic marker is the smallest on the market. This makes the XF150p direct part machine ideal for restricted spaces and whether on the line or on a robotic arm. Integration is simple in any position, reducing the time and cost of installation.
Fast direct part marking machine
Are you looking for short cycle times? The XF510p dot-peen marking machine is what you need! With a marking speed up to 12 characters per second, we are setting new industrial speed standards.
Tireless pneumatic marker
Able to work on uninterrupted production lines, the XF510p integrated solution was designed to be tireless. Made with high quality parts we have thousands of units installed worldwide providing maximum reliability and minimum maintenance costs.
Technical Specifications
3 pneumatic marker models available (L x w x h)
Cp: 137 mm (5.4 in)  x 87 mm (3.4 in) x 137 mm (5.4 in)
Sp: 219 mm (8.6 in) x 237 mm (9.3 in) x 170 mm (6.7 in)
Dp: 319 mm (12.6 in) x 237 mm (9.3 in) x 170 mm (6.7 in)

Multiple stylus available for all your marking environments, making the XF510p a versatile small production line machine.

A wide range of accessories from rotary devices, automatic Z-axis, to shutters and bellows available with your XF510p pneumatic marking machine, for the most demanding environments.

XCOM controller
with a colour touchscreen and easily accessible connectors (RJ45, USB host, USB Device, RS232, Dedicated I/O, Safety (Performance Level d), User I/O, Z-Axis, and Ethernet-based Fieldbuses)

The markings comply with international standards
Data Matrix™ ECC200 5x7 font DT05-89 ATA Spec 2000 UID SAE AS9132 NASA-STD-6002 MIL-STD-130 ISO/TS 16949 AIAG B-17, AIAG B-4 ISO/IEC 16022 AIM-DPM etc.
Are you looking to mark datamatrix codes ? Our XF510m electromagnetic dot peen marking machine should suit your needs.
General
Technology
Pneumatic dot peen
Main advantages
Speed
Direct part marking
Plate marking machine
Marking Capacity
Marking area max
Cp: 50 mm (1.969 in) x 20 mm (0.787 in)
Sp: 100 mm (3.937 in) x 80 mm (3.150 in)
Dp: 200 mm (7.874 in) x 80 mm (3.150 in)
Material hardness (HRC)
<62
| | XF510 Cp | XF510 Sp | XF510 Dp |
| --- | --- | --- | --- |
| Model | | | |
| Technology | | | |
| Dimensions (L x W x H) | 136.4 mm (5.370 in) x 86.7 mm (3.413 in) x 137 mm (5.394 in) | 219 mm (8.622 in) x 237 mm (9.331 in) x 170 mm (6.693 in) | 319 mm (12.559 in) x 237 mm (9.331 in) x 170 mm (6.693 in) |
| Marking area | 50 mm (1.968 in) x 20 mm (0.787 in) | 100 mm (3.937 in) x 80 mm (3.15 in) | 200 mm (7.874 in) x 80 mm (3.15 in) |
| Machine weight | | | |
| Communication Interfaces | RJ45, USB(x2), RS232, 8I/4O, Process IO | RJ45, USB(x2), RS232, 8I/4O, Process IO | RJ45, USB(x2), RS232, 8I/4O, Process IO |
| Fieldbus (option) | | | |
| Embedded fonts type | | | |
| Display | | | |
| Operating Temperature | | | |
| Available languages | | | |
| 2D codes | | | |
| Power consumption rate | | | |
| Input voltage | | | |
| Compressed air supply | | | |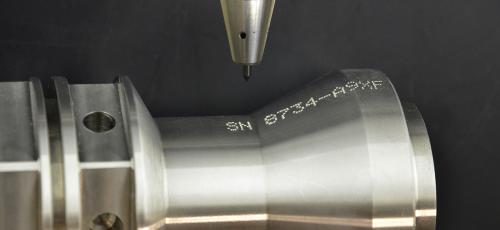 The 3D stylus makes direct part marking of shaped parts easy, by adapting to the shape of each part. The tip of the stylus extends or retracts automatically when in contact with the surface being marked.
The Z-axis doesn't need to be adjusted for direct part single marking or linked marking, with unequal heights, inclined planes or deformed surfaces. Even marking domed surfaces and cylindrical parts is possible with this pneumatic marking machine, with no rotation system required.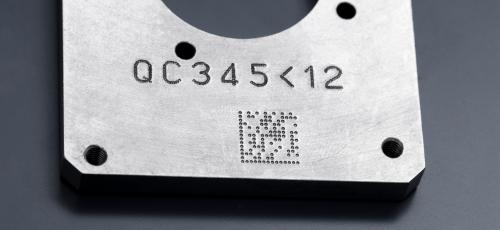 The XF510P industrial marking equipment takes fast marking to the next level for all materials up to 62HRC. Be it 2D Codes, dates, counters variables, texts, serial numbers, shapes, logos, batch numbers, mark anything, with a speed up to 12 characters per second.
With such a short cycle time the XF510P integrated solution will not be the choke point in your system.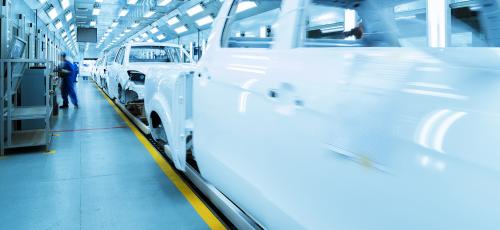 With over 50,000 units of this industrial marking equipment sold around world and over 15 trillion marked characters the XF510P dot-peen marking machine has become the industry's go-to choice for high-volume, high-speed direct part marking.
Designed for continuous use with minimum servicing time the industry relies on the XF510P plate marking machine for fast and accurate marking and as a fantastic return on investment.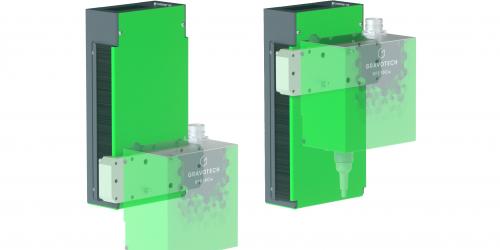 Discover our brand-new equipment!
The eZ150 moves the dot peen marking head along a linear axis.
The eZ150 is an electrical linear axis with a 150 mm stroke especially designed to facilitate the integration of our dot peen marking machines in industrial lines.
Compactness, multiple fixing points, horizontal or vertical mounting position, protection against dust, built-in limit switches: these features simplify your installation.
The eZ150 is directly connected to the XCOM machine controller, allowing a direct and fast programming without the need to set up your PLC system. It is a plug & play accessory: you just need to define the working mode depending on the dot peen marking model.
Combining the eZ150 and the pneumatic dot peen marking machine is the perfect choice when cycle time is the main criteria.
By programming the different moves precisely in your marking file, the eZ150 will position the marking head precisely in your complex parts for a high-speed marking and then step back waiting for the next part.
High productivity is the key word for this configuration.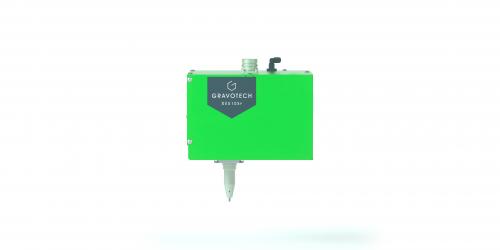 XE510p range
The XE510p is the ideal dot peen marking machine for permanent identification of your parts. It has been specially designed to be easily integrated into production lines and to focus on your essential needs.
It benefits from a more than 40 years proven design that combines compactness, robustness and performance. It is perfectly suited for intensive use on production lines.
The XE510p dot peen marking machine offers a cost of ownership that is unmatched in the market thanks to its low acquisition cost, low maintenance, exceptional uptime and no consumables.
Based on pneumatic dot peen marking technology, it is available in 2 versions (50x20mm or 100x80 mm) while maintaining very compact dimensions that facilitate its integration on production lines, turntables, machining centers, etc.
Its compatibility with our XCOM controller allows it to benefit from all the features of the standard range.
This pneumatic marker can mark 15+ materials
DOT PEEN
PLASTICS
ABS​​
PA
PC
PE, BET
PMMA, Acrylic
POM - PBT
PP
METAL
Aluminum
Anodized Aluminum​​
Brass​​
Carbide
Coated metal
Copper
Gold, silver, nickel, platinum
Stainless steel​​
Steel
Titanium
= Engraving / Deep marking
XF510p: Technifor fastest dot peen machine
The XF510p industrial machine is backed by 40 years of Technifor knowledge

Technifor, our historical brand for traceability and identification marking, invented the dot peen marking process in 1985 and produced their first machines shortly after.
The Technifor team instantly saw the interest of this marking technology for all industries with identification requirements and launched the CN machine range. These integrable dot peen machines were declined in 2 technologies: pneumatic (the fastest) and electromagnetic (the most precise). 30 years later, several thousands of units had been sold in about a hundred countries and implemented in international companies.
The XF510p was designed and commercialized in 2008 to take over the aging CN pneumatic machines. Technifor's choice was to keep the existing range of high-speed marking styli, while engineering a compact, reliable, and eXtra Fast range of marking heads, and developing a communicative control unit the XCOM.
While the first pneumatic version could mark 5 characters/second, today the XCOM and the XF510p break industrial records, with an exceptional marking speed available 24/7!