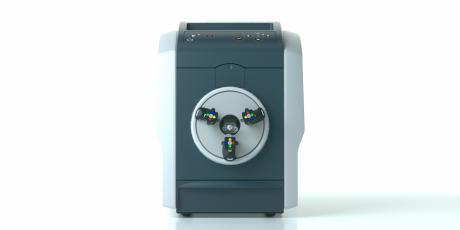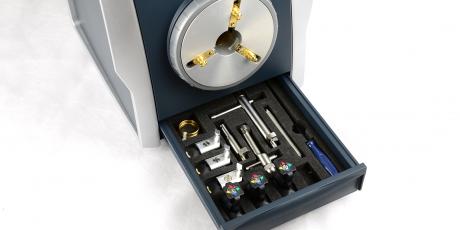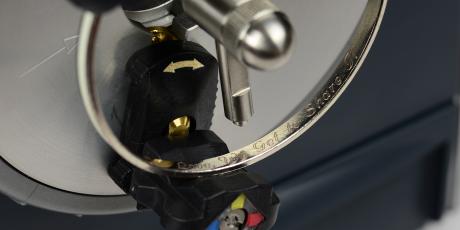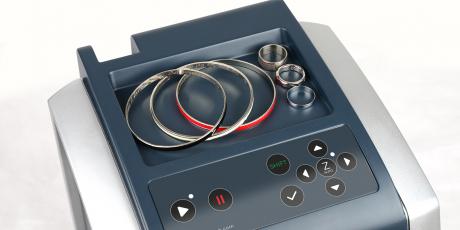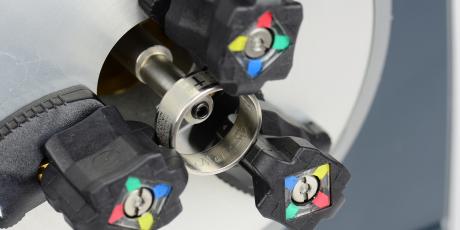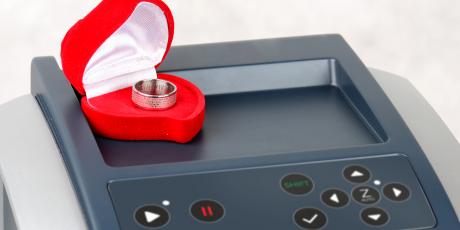 M10 Jewel, small jewellery engraving machine for rings and bracelets
ROTARY ENGRAVING MACHINE
The M10 Jewel is a jewellery personalisation machine. With a footprint of the size of an A4 sheet, this compact jewellery engraver is designed for internal and external ring and bracelet engraving and requires very little technical manipulation.
Compact jewellery engraving machine
The M10J jewellery engraver has a 230x293mm footprint, enabling you to place it even in small stores and workshops. Take it to Christmas markets, fairs or any event stand thanks to its lightweight of 6.5kg - one of the lightest on the market! Drop your tools and jewels on the plate on the top of the jewellery engraving machine, designed for maximum space optimisation.
 
Inside and outside ring engraving machine
The M10 Jewel is fitted with 3 jaws around the moving diamond tip for internal and external ring and bangle engraving. Choose between 4 positions to match the jewel diameter and shape. No technical manipulation is required when putting the ring or bracelet in the jewellery engraving machine, simply clamp it by turning the clamping wheel!
Error-free engraving process
Easily position texts, symbols and logos on your jewels with the ABC engraving software. Your composition is auto-centred and simulated on the software interface before the engraving starts, eliminating the risk of error. Integrate an item catalogue with pre-saved engraving settings to save time and stress!
Technical Specifications
Max engraving precision
0.05 mm
Engrave fine details even on small jewels. Ideal to engrave inside of rings and thin bangles.

Noise level
60 dB
Our jewellery and ring engraving machine is compatible with commercial activity.

Control software
ABC or GravostyleTM
Engraving software for either simplicity or unlimited personalisation possibilities.

Optional Bluetooth
For wireless communication between your device and the jewellery engraver.

Accessory drawer
Keep your workspace tidy.
General
Technology
Scribing
Ideal for:
Bracelet engraving
Bangle engraving
Ring engraving
Marking Capacity
Max object height
Diameter 12.5 mm (0.5 in) to 80 mm (3.15 in)
| | M10 Jewel |
| --- | --- |
| Max. object size (L x W x H) (weight) | Diameter 12.5 to 80 mm (0.5 to 3.1 in) |
| Dimensions (L x W x H) | 230 mm x 293 x 290 mm (9 in x 11,5 in x 11.4 in) |
| Machine weight | |
| Automatic Z axis | |
| Noise level | |
| Operating Temperature | min. +5°C (+ 41°F) - max. +40°C (+104 °F) |
| Connection to computer | |
| Maximum speed | |
| Z stroke (Z travel) | |
| Software | ABC / Gravostyle / Gravotouch |
| Tool diameter | |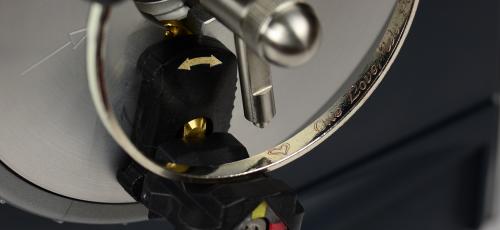 Diamond engraving is very quiet and does not cause any chipping as it scribes, and does not rotate like a spindle.
The diamond engraving tip automatically adjusts on the Z-axis for a precise and reliable engraving result.
Several tips are available to engrave inside of rings, outside bracelets and more.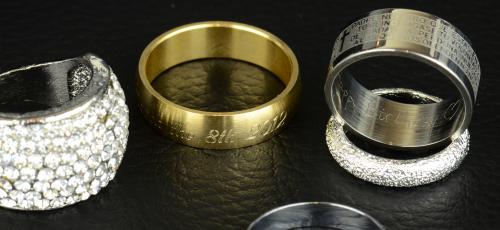 Rings, bangles and bracelets come in different materials and precious metals.
The M10 Jewel jewellery, inside and outside ring engraving machine allows you to engrave them all. Personalise gold, silver, copper, but also brass, steel, wood, plastic and more.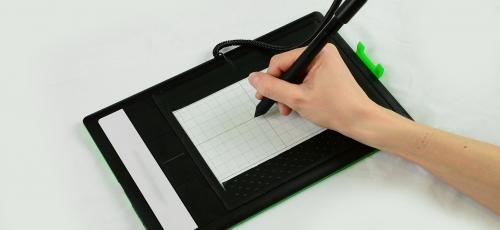 Let your customers add their personal touch on their rings and bangles with the Dedicace™ option.
This personalisation engraving solution, patented by Gravotech, perfectly reproduces handwritten messages, signatures or drawings done on a specially designed tablet.
The M10J jewellery engraving machine can handle 15+ materials
DIAMOND DRAGGING
METAL
Aluminum
Anodized Aluminum​​
Brass​​
Carbide
Coated metal
Copper
Gold, silver, nickel, platinum
Stainless steel​​
Steel
Titanium