M20 Jewel: Jewellery engraving machine for flat and cylindrical items
ROTARY ENGRAVING MACHINE
The M20 Jewel is dedicated to flat and cylindrical jewellery engraving. Easy to use, versatile and portable, the M20 is the jeweller's best friend!
Modular
The M20 Jewel rotary engraver is the ideal solution for ring engraving (inside and outside of rings), jewellery engraving & pendants, personalizing gift items and engraving photos or logos. The M20 Jewel is also able to create small pieces of jewellery.
 
Compact
The size of a small printer, this jewellery and ring engraver is easy to carry and fits anywhere in your working area, be it a small store or a busy workshop! Designed for customer safety, the M20 Jewel perfectly finds its place in any retail environment: personalization creates unforgettable customer experiences.
 
Robust mechanics
This jewellery engraving machine benefits from a new sturdy bridge and a stronger spindle. Its new design is a guarantee of longevity and durability, giving the M20 Jewel the heart and inner workings of an industrial powerhouse.
 
Are you looking for a more versatile engraving machine? Discover the M20, a complete solution made for gift engraving, small signage and retail personalisation.
Technical Specifications
M20 Jewel rotary engraver – jewellery, ring, pendant and charm engraving machine

Unobstructed access.

Engraving assistance
Depth nose unit for surface tracking
Automatic detection of the object height. Compatible with any piece of jewellery: ring, pendant, charm, bangle and more.
Positioning assistance
Self-centering vices
Point & Shoot technology for engraving positioning and simulation
Engraving preview
Wide range of tools

Create custom engraved pendants, rings (inside ring engraving and outside ring engraving), charms and more with our specific jigs, or with diamonds, rotative diamonds or cutters. We have an extensive choice of +300 references among our OneCut and TwinCut tool ranges. You can now cut and drill without changing your M20 Jewel spindle.

Connectivity to computer and tablets via Bluetooth and USB.
General
Technologies
Rotary, diamond dragging
Marking Capacity
Marking area max
100 x 100 mm (3.9 x 3.9 in)

Spindle power
30 W

Max object height
100 mm (3.9 in)

Max item diameter
27 mm (1.06 in)

Machine weight
13,5 kg (29.762 lbs)
M20
Max. object size (L x W x H) (weight)

190 x 110 mm (7,5 x 4.3 in) or unlimited x 60 mm (2,36 in) - (10 kg - 22,04 lbs)

Dimensions (L x W x H)

375 x 350 x 360 mm (14.764 x 13.780 x 14.173 in)

Machine weight
Automatic Z axis
Noise level
Spindle Type

Top load spindle
Hollow shaft motor

Point & shoot
Operating Temperature

min. +5°C (+ 41°F) - max. +40°C (+104 °F)

Connection to computer
Maximum speed
Z stroke (Z travel)
Rotation speed
Software

ABC / Gravostyle / Gravotouch

Tool diameter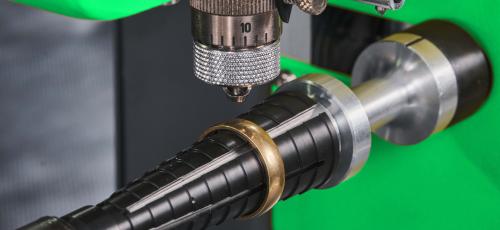 Thanks to the rotary device, bring a unique touch to all your creations by personalising them easily, engrave messages on the inside or outside of rings and quickly switch to curved bangles.

With specialised cutters and diamonds, this jewellery and ring engraving machine is the perfect complement to your creations!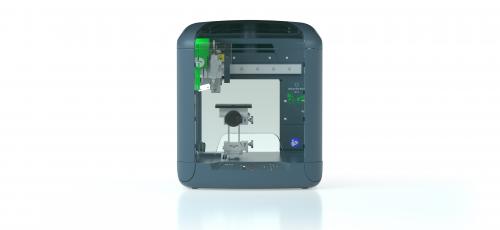 Compact and discreet, the M20 Jewel can fit into any retail space, from department stores to luxury boutiques. It takes only minutes to train an operator and seconds to create custom engraved pendants, charms or rings that the customer will enjoy for years.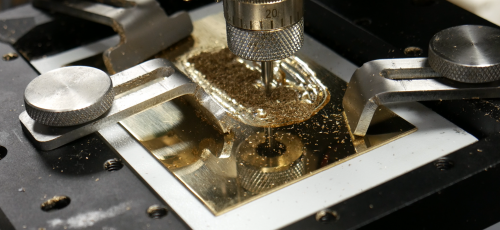 You can always ask more from your M20 Jewel!

Create personalised pendants and charms by cutting metal with your jewellery engraving machine. No need for a more powerful spindle or expensive software add-ons! Cut any traditional jewellery metal (gold, silver, brass and many more) up to 2mm.

Add dedicated accessories such as chip collectors to avoid precious material waste, lubricant or jewellery cutting jigs to get the best result possible.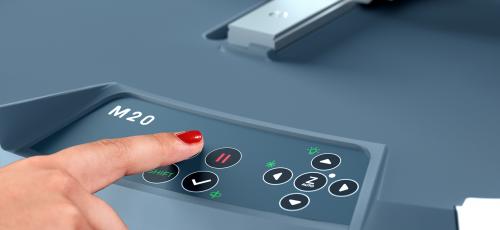 No need to be an engraving expert to use the M20 Jewel.

Our jewellery and ring engraver helps you with your engravings to make sure you achieve exactly what you had in mind.

The Point & Shoot feature guides you by visually simulating with a red light the location of the engraving before it is made. You can then precisely adjust the positioning of the jewel to be engraved or review the size of the engraving.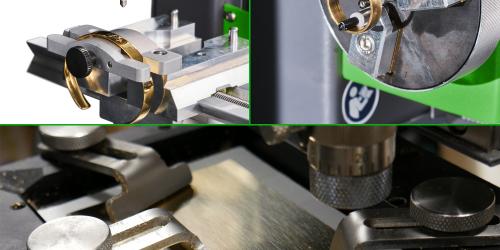 Dedicated accessories for jewellery engraving
Engraving and cutting jigs
Choose the exact jig you need for your application among our exhaustive range. Easy switching and positioning.

Rotary device
Initially designed for the engraving of cylindrical objects, the rotary device allows outside and inside ring engraving. 

Cutting table
Fasten your precious metals during cutting to prevent them from moving while the machine is working and get a clean and precise cut.

Engraving gel
Use engraving lubricant to increase your tool lifetime and get a smoother engraving on glass or cutting on metals.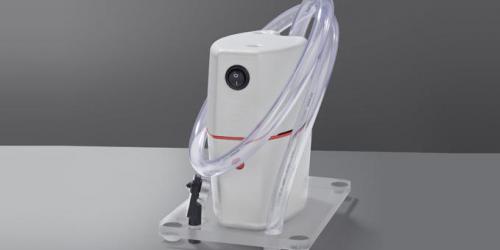 Chip collector
Rotary engraving produces dust and chips that can interfere with the engraving process or scratch the engraved gift or item. Keep your engravings clean with a chip collector.

Using a chip collector ensures a perfect engraving result as the material residues are immediately sucked up.
It also helps you to keep your rotary engraver clean at all times and reduces maintenance needs.
This rotary engraver can handle more than 30 materials
ROTARY
SCRIBING
DIAMOND DRAGGING
ORGANICS
Glass, crystal
Leather
Wood​​, varnished wood
PLASTICS
ABS​​
Foam​​
Laminates​​
PA
PC
PE, BET
PMMA, Acrylic
POM - PBT
PP
METAL
Aluminum
Anodized Aluminum​​
Brass​​
Coated metal
Copper
Gold, silver, nickel, platinum
Stainless steel​​
Steel
Carbide
Titanium
= Engraving / Deep marking
M20: Gravograph historical best-seller
Gravograph was created in 1938 under the name "New Hermes". Dedicated to personalisation and signage, our historical brand developed the iconic M20 engraver at the beginning of the 2000's.

Gravograph's aim was to develop a versatile machine at an affordable price. The light weight and compact dimensions of the M20 quickly made it a flagship product of Gravograph. It is particularly popular with express engravers, small and medium-sized companies and jewellers.

In 2018, The Gravograph M20 is chosen to engrave all the Golden Globes trophies thanks to its high-speed personalisation capacity. A great occasion for the whole team to celebrate not only the awarded talent but also the unquestionable engraving qualities of this machine!

Thoughout the years, Gravotech has developed the expertise to design the M20 Jewel, an engraver that includes the tools jewellers need to engrave and create unique pieces.